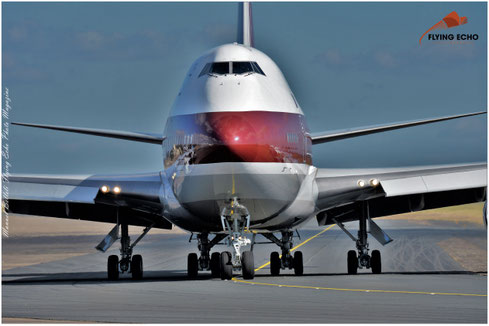 The 747 is an icon of commercial aviation. Nicknamed the Queen of the Skies, the 747-100 made its first test flight on February 9, 1969. It was the first airplane with two aisles and marked the first commercial use of the high bypass turbofan engine. It allowed more people to fly farther, faster and more affordably than ever before.
The distinctive hump on the 747 makes it readily recognizable, a symbol of great engineering, and often noted as an outstanding work of architecture. The 747 has also become a part of popular culture starring in numerous movies, TV shows and in the lyrics of songs.
The first 747 was the result of the work of more than 50,000 Boeing employees. Called "the Incredibles," these pioneers were construction workers, mechanics, engineers, secretaries, and administrators. They made aviation history by building the 747 – the largest commercial airplane in the world – in less than 28 months during the late 1960s.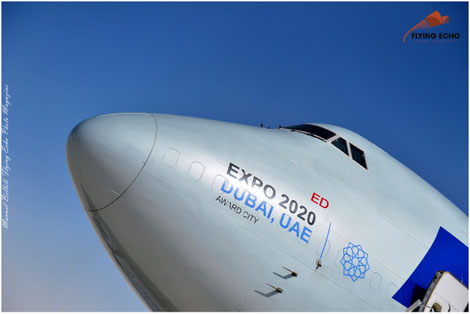 April 13, 1966 Boeing announces it will build a 490 passenger 747 transport June 1966 Construction begins on factory in Everett, WA
Sept. 30, 1968
First 747-100 rolls out of the factory Feb. 9, 1969 The Boeing 747-100 makes its first flight
Jan. 21, 1970
First 747 entered service on launch customer Pan Am Airlines'
New York–London route July 18, 1974 NASA buys a Boeing 747 from American Airlines, and under a $30 million contract from Rockwell International, Boeing begins modifying it into the first Shuttle Carrier Aircraft
Jan. 14, 1977
Modified Boeing 747 Shuttle Carrier Aircraft delivered to NASA Dec.19, 1980 500th Boeing 747 rolls out at Everett, Wash. factory
Jan. 26, 1988
Dual ceremonies celebrate the simultaneous rollout of the Boeing
737-400 and the 747-400 Aug. 23, 1990 A new Air Force One, a modified Boeing 747-200B, is delivered to the Air Force and President George H.W. Bush
March 8, 1993
The Boeing 747-400 Freighter rolls out Jan. 7, 2004 Boeing launches the 747-400 Special Freighter program with an agreement with Cathay Pacific Airways to convert at least six 747- 400 passenger airplanes into freighters
Aug. 17, 2005
UPS orders its first eight 747-400 Freighters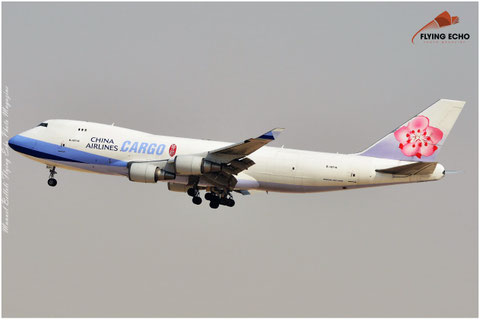 Oct. 5, 2005 The first 747-400 passenger airplane to be converted into the 747400 Boeing Converted Freighter program arrives in Hong Kong for launch customer Cathay Pacific Airways
Nov. 14, 2005 The Boeing 747-8 program is launched with an order of 18 freighters from Cargolux and Nippon Air Cargo Aug. 17, 2006 First 747-400 Large Cargo Freighter (LCF), better known as Dreamlifter, rolls out of hangar at Taipei's Chiang Kai-Shek International Airport. It is the first of four Dreamlifters that will be used to transport major assembles for the all-new Boeing 787 Dreamliner
Sept. 9, 2006 Dreamlifter makes its first flight, initiating the flight-test program that will culminate in U.S. Federal Aviation Administration certification Oct. 17, 2006 Boeing Business Jets announces launch of wide-body VIP airplanes with seven orders for the Boeing 787 Dreamliner and 747-8
Dec. 6, 2006
Deutsche Lufthansa AG places the first order for the new 747-8 intercontinental passenger airplane Jan. 16, 2007 747-400 Dreamlifter delivers the first 787 Dreamliner major assemblies to Global Aeronautica in Charleston, South Carolina.
Feb. 28, 2008
Boeing delivers its 1,400 747, a 747-400 Freighter to GE
Commercial Aviation Services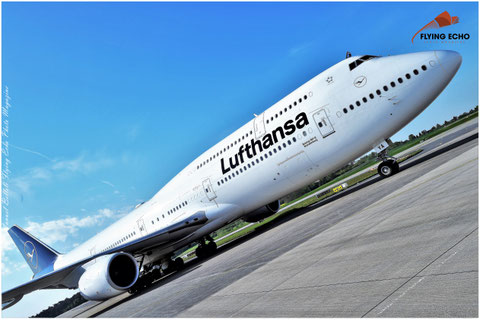 Aug. 9, 2008 Major assembly begins on the first 747-8 Freighter
Feb. 8, 2010
747-8, the third generation of the legendary 747 family, makes its first flight March 11, 2010 The 747-8 Freighter completes initial airworthiness testing
May 3, 2010
Boeing begins assembly of the first 747-8 intercontinental March 20, 2011 747-8 intercontinental completes its first flight
June 20, 2011
747-8 Freighter lands at Paris-Le Bourget airport after completing the first transatlantic flight of a large commercial airplane powered on all engines by a sustainable aviation jet fuel – a blend of 15 percent carmelina-based biofuel mixed with 85 percent traditional kerosene Jet A fuel Oct. 12, 2011 First 747-8 Freighter delivered to Cargolux
April 25, 2012
First 747-8 intercontinental delivered to Lufthansa Jan. 29, 2014 Boeing reveals a 747-8 Freighter painted in the livery of the NFL's Seattle Seahawks to commemorate the team's upcoming Super Bowl appearance
June 28, 2014 Boeing delivers 1,500th 747 to Lufthansa Aug. 4 2017 United States Air Force purchases two 747-8s to serve as next Air Force Ones
Feb. 9, 2019 Boeing celebrates the 50th anniversary of the 747-100 first flight.
July 30, 2020 Boeing announces end of 747 production by end of 2022 due to market preference; Atlas Air will be the final 747 customer with an order of four 747-8 Freighters.
---
Press release:BOEING
Photos : Manuel BELLELI