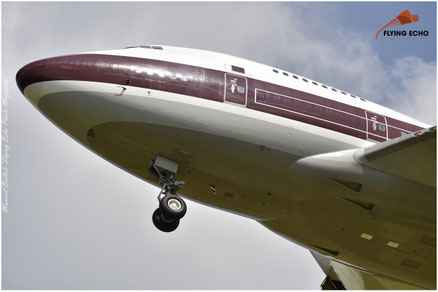 747 Fleet
• Production of the world's first twin-aisle airplane, the 747 began in 1967 and spanned 55 years, during which a total of 1,574 airplanes were built for 100+ customers.
• The 747 fleet has logged more than 118 million flight hours and nearly 23 million flight cycles.
• From the early days of the program, the 747 was designed with freight in mind. A key reason the 747 design located the flight deck on a second level was to facilitate cargo loading in later freighter derivatives.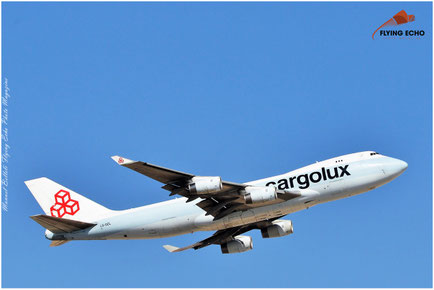 747-8 General
• At typical cruising speeds, the 747-8 travels roughly the length of three FIFA soccer fields or NFL football fields, per second.
• The 747-8 is able to travel the length of a standard 26.2-mile marathon (42.2 km) in 2.5 minutes.
• The 747-8 tail height is 63 ft 6 in (19.5 m), equivalent to a six-story building.
• With a revenue payload of 133.1 tonnes, the 747-8 Freighter is able to transport 10,699 solid gold bars, valued at $7.7 billion.
• The 747-8 Freighter could hold approximately 19 million ping-pong balls or golf balls.
• The total electrical capacity of a 747-8 can power up to 480,000 32-in. (81 cm) flat screen televisions.
• A 747-8 Freighter is able to instantly airlift nearly 9 million 72-hour medical kits or 122,000 military MRE (meals ready to eat) to a location in distress.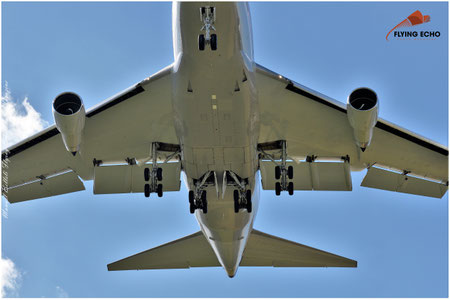 Wings
• One 747-8 wing would accommodate the total living space (total floor area) of four family homes, each with three bedrooms and two bathrooms at 1,375 square feet each (128 sq. m).
• The wingspan of the 747-8 is as wide as two 737-700s lined up nose to tail.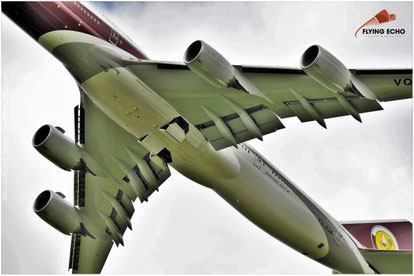 Engines
• Engine thrust has grown from 43,500 pounds per engine on the early 747s to as much as 747-8 GENx-B2 engines are rated @ 66,500 pounds per engine.
• The fan diameter of the 747-8 GEnx-2B engine is nearly the fuselage diameter of a B-29 bomber fuselage.
• One 747-8 GEnx-2B engine has approximately the same take-off thrust as all eight engines together on the original B-52 bomber (PW YJ57-3).
Flight
• The 747-8 Intercontinental range is approximately 7,790 nautical miles (14,430 km); the freighter range is approximately 4,325 nautical miles (8,010 km).
• Maximum takeoff weight is almost one million pounds (about 450,000 kg).
Interior
• There are 14 stairs in the stairwell to the upper deck.
• Just the upper deck of a 747-8 Intercontinental has the same square area as a 737-700.
---
Press release:BOEING
Photos : Manuel BELLELI